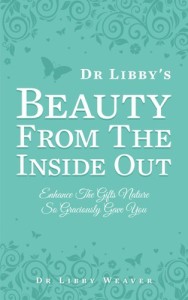 By Dr Libby Weaver
Beauty really is an inside job. How many of us stop to consider that our outer layer is merely a reflection of inner processes, completely reliant on the health of the 50 trillion cells that you are made of? And the health of those cells is impacted by everything from the food you eat, the nutrients present or missing from your blood and the hormones and messages your body makes based on whether your thoughts are fearful or loving.
Through Beauty From The Inside Out, Dr Libby expertly explains your outer world, the food you choose, the nutrients you ingest, hydration, posture, movement and what your body needs to create lovely nails, lustrous hair, sparkling eyes and clear, luminous skin. Be guided to deal with very specific bumps in the road, such as dark circles under the eyes, eczema, pimples and hair that is falling out, just to name a few. Just as importantly, Dr Libby explains your inner world, sex hormones, stress hormones, detox, digestion, elimination pathways, thyroid and pituitary functions. Both worlds relate to your sparkle and by taking a heart-opening look at your emotional landscape, many find that that is where the real elixir is. 
As a society, our relationship with beauty is in crisis. We are told that beauty exists only in certain forms, images and at certain ages. We can feel bombarded with images that lead us away from our own unique beauty and encourage us to try to look like someone else rather than become and accept more of who we are. While adults can be affected by such messages, these messages can be particularly damaging to children and teenagers who so desperately want to be loved, approved of, considered special, and seen as beautiful.
When most people think about improving their appearance, they usually focus on a product, another "quick fix". Yet when you consider that the skin cells on your face are a small percentage of the total number of cells in the whole body, it seems crazy that we don't spend more time getting the majority of the cells functioning optimally, leading us to the outcomes we seek. 
Beauty From The Inside Out is a must-have beauty bible for all women. Enjoy radiating your own unique sparkle, from the inside out.